Listen up, culinarily curious renegades. It's time to crack open a world of possibilities that don't involve the cluck of a conventional egg. Say farewell to the tyranny of traditional baking and give a mischievous wink to dietary preferences and rebellious taste buds.
We're diving headfirst into the art of egg substitutes—your ticket to cooking liberation that doesn't compromise on flavor or flair. Ready to whisk, blend, and transform your dishes with a dash of audacity?
Step into the kitchen revolution and let's flip the script together!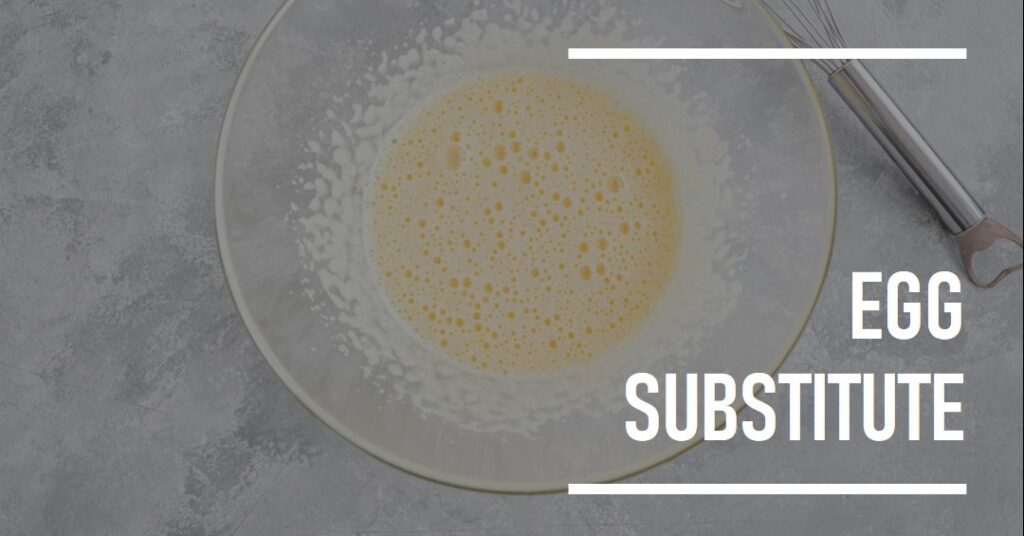 What's the Buzz About Egg Substitutes?
Egg substitutes are like secret agents in the world of cooking and baking. They swoop in to save the day when you're watching your diet or dealing with allergies. Say goodbye to FOMO (Fear of Missing Out) on your favorite recipes! These substitutes are here to save your culinary adventures.
Why Eggs Deserve a Stand-In: Eggs, while a breakfast superstar, can be high in cholesterol and fat. If you're counting calories or have cholesterol concerns, it's time to give them a break without sacrificing taste and texture.
Flaxseed Magic: Your New Go-To
Let's talk about flaxseed, the David Copperfield of egg substitutes. It's not just about the "abracadabra," but the science! Mix 1 tablespoon of ground flaxseed with 2.5 tablespoons of water and let it sit for a few minutes. Watch it transform into a gel-like consistency, ready to rock your pancakes and muffins.
Flax Egg Mix:
1 tbsp ground flaxseed
2.5 tbsp water
Use it as a 1:1 replacement for eggs. You won't believe how it adds a nutty hint to your treats.
Silken Tofu: The Protein Paladin
Tofu isn't just for stir-fries. Silken tofu slips into recipes like a culinary ninja, silent but powerful. Blend 1/4 cup of silken tofu until smooth. It's a protein-packed potion that's perfect for custards, quiches, and creamy desserts.
Silken Tofu Conversion:
1/4 cup blended silken tofu
Say goodbye to plain old scrambled eggs and embrace the tofu magic!
Applesauce – The Sweet Surrender
Don't turn your nose up at this unsung hero. Applesauce isn't just for baby food. It's the sugar's sidekick, swooping in to reduce the need for added sweeteners. Replace each egg with 1/4 cup of unsweetened applesauce. Your taste buds and waistline will thank you.
Applesauce Swap:
1/4 cup unsweetened applesauce
Embrace the subtly sweet vibe without the sugar rush.
Banana Brilliance: The Potassium Powerhouse
If you've got overripe bananas hanging around, it's time to put them to delicious use. Smash half a ripe banana for every egg you're replacing. It's a match made in potassium heaven. Hello, banana bread bliss!
Banana Trick:
Wave goodbye to egg-induced guilt and wave hello to guilt-free banana goodness.
Yogurt Your Way In
Yogurt isn't just a breakfast buddy; it's an egg-cellent substitute too. It's creamy, tangy, and adds a lovely moisture to your baked goods. Swap in 1/4 cup of plain yogurt for each egg. Your taste buds won't know what hit them!
Yogurt Swap:
Yogurt: the unsung hero of the dairy world and your new baking BFF.
Aquafaba – The Liquid Gold
Aquafaba might sound like a mystical incantation, but it's actually the liquid gold found in canned chickpeas. Drain a can of chickpeas, and you've struck egg substitute treasure. Three tablespoons of aquafaba replace one egg. Whip it up to create fluffy wonders like meringues and macarons.
Aquafaba Enchantment:
Who knew that chickpea water could make your treats soar?
Baking Powder and Vinegar: The Chemistry Show
When baking feels like a science experiment, grab your lab coat and mix 1 tablespoon of baking powder with 1 tablespoon of vinegar. Watch the fizz, and watch your recipes rise to the occasion. This combo works wonders in baked goods.
Baking Alchemy:
1 tbsp baking powder
1 tbsp vinegar
Get ready for a chemistry show that'll leave your taste buds cheering.
Commercial Egg Replacers: The Brands to Know
Brace yourself for the convenience of commercial egg replacers. Brands like Bob's Red Mill Egg Replacer, Ener-G, and Follow Your Heart VeganEgg are here to make your life easier. Follow package instructions to create egg-free enchantment in the kitchen.
Top Brands to Try:
Let these kitchen wizards do the heavy lifting for you.
But Wait, There's More!
Egg substitutes are your ticket to culinary liberation. From flaxseed to aquafaba, each substitute brings its own flavor and flair to the kitchen. Experiment, explore, and enjoy the journey of creating delightful dishes while keeping your dietary goals in check.
Vegan Delights: Scrambled Tofu
Who needs eggs for a hearty breakfast scramble? Say hello to scrambled tofu! This vegan twist on a classic is a protein-packed masterpiece. Crumble firm tofu, sauté it with colorful veggies, and season with turmeric, nutritional yeast, and a pinch of black salt for that eggy flavor. Serve with whole-grain toast and watch your mornings transform.
Ingredients:
1 block firm tofu, crumbled
Assorted veggies (bell peppers, onions, spinach)
1/2 tsp turmeric
1 tbsp nutritional yeast
Pinch of black salt (kala namak)
Whole-grain toast
Savor the savory goodness without a cluck in sight!
Baking Bliss: Vegan Chocolate Chip Cookies
Who says you need eggs for soft, chewy, and drool-worthy chocolate chip cookies? It's time to take your baking skills to the next level with this vegan recipe. Swap eggs for flax eggs (remember that flaxseed magic we talked about?) and enjoy a guilt-free treat that's bound to satisfy your sweet tooth.
Ingredients:
2 flax eggs (2 tbsp ground flaxseed + 5 tbsp water)
1/2 cup coconut oil, melted
3/4 cup brown sugar
1 tsp vanilla extract
1 3/4 cups all-purpose flour
1/2 tsp baking soda
1/2 tsp salt
1 cup dairy-free chocolate chips
Instructions:
Prepare the flax eggs by mixing ground flaxseed and water. Let it sit for 5 minutes until it forms a gel-like consistency.
In a bowl, whisk melted coconut oil, brown sugar, and vanilla extract until well combined.
Add the flax eggs to the wet mixture and mix thoroughly.
In a separate bowl, whisk together flour, baking soda, and salt.
Gradually add the dry ingredients to the wet mixture, stirring until just combined.
Fold in the dairy-free chocolate chips.
Chill the dough in the refrigerator for about 30 minutes.
Preheat your oven to 350°F (175°C) and line a baking sheet with parchment paper.
Scoop spoonfuls of dough onto the baking sheet and gently flatten them.
Bake for 10-12 minutes, or until the edges are golden brown.
Let the cookies cool on the baking sheet for a few minutes before transferring them to a wire rack to cool completely.
Indulge in the gooey, chocolaty goodness without any animal products in sight. Your taste buds won't know the difference!