A question we get often is- "how can I make coconut oil at home?"
The good news is that it's really simple to make coconut oil yourself!
How To Make Coconut Oil At Home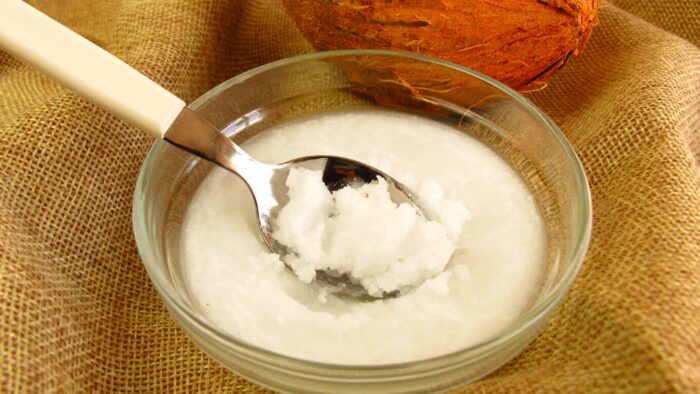 What You Need:
All you need is organic, virgin coconut(s) and a slow cooker. (No blender needed!)
To start:
Take your coconut and cut the top off.
Then you want to drain out the liquid using a cheesecloth or kitchen towel.
Next, put your coconut in the slow cooker with just enough water to cover it up plus 1 inch of water.
Set the slow cooker to high for 8 hours or low for 16 hours.
When it's done cooking, carefully remove the coconut from the slow cooker & scrape out all of its meat – this is very tasty on toast with some honey!
Put the leftover water in a jar and add some extra virgin olive oil to it – let this mixture sit in the fridge for a few hours and you'll have an amazing moisturizing hair mask!
The coconut meat can be frozen to use later. (I like to freeze mine in ice cube trays with some water, then put the cubes into freezer bags.)
After scraping out all of your coconut meat, place it back into the slow cooker with more water and cook it over low for 12-14 hours.
It will turn into a thick cream, so you can use this in recipes instead of full-fat coconut milk which has no flavor! Just be sure to keep the defrosted coconut cream covered in the fridge or it will turn brown.
Here's Another Recipe To Make Coconut Oil
Take your coconut meat and let it sit in a bowl at room temperature for 1-2 days.
Then add about 1/4 cup of the meat to 2 cups of cold water
Blend them together in a blender or food processor, and strain through a cheesecloth or thin dishtowel.
You'll end up with a fine liquid that resembles skim milk.
This is coconut "water" and it contains beneficial enzymes, electrolytes (sodium, magnesium, and potassium), and amino acids for your body!
It's best to drink this within a few days since bacteria can form after time which can be harmful… but you can also freeze it & defrost as needed.
Now that you've made your coconut oil, what can you do with it? Here are…
22 Uses for Coconut Oil
1. Moisturizing skin
2. Use it for baking
3. Makes a fantastic hair mask
4. As a good source of natural electrolytes and amino acids
5. Skin-soothing oil to use on eczema, acne, sunburns, & dry skin conditions
6. Great for making homemade lotion bars
7. Use as a natural antibacterial hand sanitizer & makeup remover
8. Adding to your smoothie or chia pudding for a boost of healthy fats!
9. Use coconut oil with yogurt and fruit to make a parfait
10. Smoothies with coconut water
11. Make your own all-natural sunscreen!
11. Mix with nut butter, honey & cocoa powder for a homemade chocolate bar.
12. Flavorless coconut oil is good for adding to coffee, tea or other heated drinks!
13. Use as an all-natural substitute for whipped cream on top of the dessert
14. Great to use with your essential oils for an effective aromatherapy recipe
15. A healthier alternative to sugar and other sweeteners
16. Perfect as a sugar scrub
17. Balancing skin's pH levels by controlling the production of sebum
18. Make your own antiviral balm
19. Coconut oil on top of yogurt, cereal, or oatmeal is a great way to start your day!
20. A spoonful of extra virgin coconut oil in the wintertime can be beneficial to the immune system
21. Make your own toothpaste with coconut oil, baking soda & peppermint essential oil
22. DIY lip exfoliator!
Don't forget to check out the 13 benefits of coconut oil as well.
Coconut oil is one of the most versatile oils out there. It has a plethora of uses across your everyday life, from moisturizing your skin to cooking delicious peanut butter pancakes for breakfast!