Long summer nights and steamy weather quells our tastes for heavy comfort foods. Our taste buds tend to crave cool, juicy and crisp foods.
It is also a great time of year to drop a few pounds because we are more active and crave less fatty foods. (Check out our FREE Carb Manipulation Protocol here).
I have compiled my top five salad dinners that are easy to make and taste great. After a long day at the office, flip on the air conditioner and enjoy a cool salad, low cal, high protein salad.
I pack them in these awesome containers for convenience.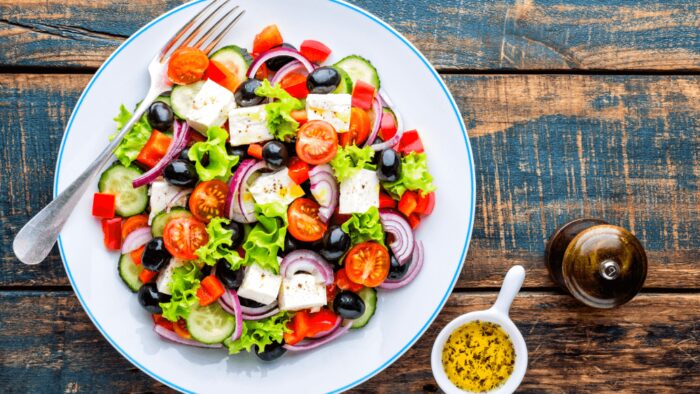 Drop a few pounds with these 5 summer salads
GREEK GALORE SALAD
1 bag of spinach
Low fat feta cheese
1 lb of shady brook turkey breasts (steam or grill)
1 tsp of oregano
1/4 cup of olive oil
squeeze of lemon
Serves: 2
TONNO AND RED PEPPER AND ASPARAGUS
1 can of Good Italian Tuna (tonno genova)
1 lbs of steamed asparagus chopped one inch pieces
3 red peppers from can of marinated peppers
1/4 cup capers
1/4 cup extra virgin olive oil
1/4 cup balsamic vinegar or to taste
Serves: 1
LOVELY LENTIL AND FENNEL SALAD
1lbs of cooked lentil drained
1 large anise(chopped) 2 cups
2 carrots chopped
1 small red onion chopped
2 cloves of garlic
salt and pepper to taste
1/4 extra virgin olive oil
2 tsp of cider vinegar
STEAK AND ARUGULA SALAD
1 LB of sirloin or shell steak
seared and sliced (not too thick)
1 pound of very clean arugula
shaved parmegiano reggiano cheese
salt and pepper to taste
1/4 cup of olive oil
squeeze of lemon
SPICY SHRIMP SALAD
1 LB of shrimp steamed and shelled
2 cups of broccoli florets steamed
1/4 cup of sesame seeds
1 tsp of red pepper flakes
1 cup of raspberries
1/4 cup olive oil
squeeze of lemon
Stock Up on Fresh Ingredients!
Stock up on fresh ingredients this summer. I use Amazon Fresh for delivery right to my door these days. Check out the benefits of portion control as well.
Use simple, crisp flavors and don't forget to experiment with your own taste combinations. The possibilities are endless. Eat and be free!